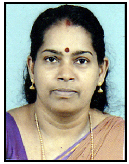 Name                                             :  SINDHU I P
Designation                 :  Asst. Prof in Natural Science
ID Number                                     :  20159
Scale of pay                                  : 19240 – 34500
Date of Joining In Kerala university B. Ed College       : 27.06.1997
Qualification   : M.Sc, M.Ed, M.Phil, NET, Ph.D doing
Publications  of papers                 : Presentation of papers
Legal support system among orthopedically handicapped children with special reference to educational rights. Organised by Dept. of Edn, M. S University, Tirunelveli.
IT enabled learning strategy for making effective learning among disabled children. UGC sponsored National Seminar at GCTE, Thycaud
A study of attitude of Teachers towards inclusive education, International seminar on education at cross roads: tilting social equations and 15th annual convention of council for teacher education on Feb 2017.