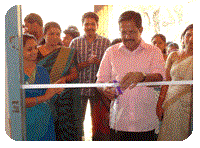 The College was shifted from Olathanni To Nedumangad and started functioning in January 2005.At the beginning there was only two blocks of building handed over to University of Kerala from Govt .BHSS for starting the B.Ed course. But the local self Govt. and Nedumangad MLA came forward with financial support.The Municipal Council under the chairmanship of Shri Madhu initiated to divert Rupees Five Lacks for the renovation of the building and the council with Kollamkavil Chandran as chairman sanctioned funds for re-painting these buildings.
The Municipality also initiated to get these building with 1.79 acres of land which is sufficient for B.Ed College as per NCTE norms. The land and the building were registered in the name of the college for 33 years lease. Shri .Mangode Radhakrishnan then MLA fulfilled his promise of construction of new building of four class rooms for the College. This new building constructed with 20 Lacks from MLA Fund was handed over in2006.He was again sanctioned Rs.22 lacks to construct another building for the College. Using this fund the first floor of three class rooms and a faculty room and two toilets-blocks where constructed late MLa , MP Shri Varkala Radhakrishnan ,when he was the member of Parliament of this Constituency was kind enough to Sanction Rupees 15 lacks from M.P Fund for the construction of a new block consisting of the College Library and ICT lab.eros ut enim.
Construction of a beautiful administration block is a golden moment in the development of this College. Using CDC fund, University fund and donations received from various circles, this building was constructed an amount of rupees 22 Lacks was used for this purpose.
Nedumangad MLA Palode Ravi has sanctioned Rs.25 Lacks from his development fund for construction of a 2nd floor on the ground floor constructed by using MP fund. The building is under construction
The Municipality has completed the construction of compound wall surrounding the College and the School.
The Kerala University College of Teacher Education was started at Olathanni in 1994 – 1995 academic year. Olathanni is located 3 kms away from Neyyattinkkara Bus Station.This institution was functioning at the campus of Victory Vocational Higher Secondary School, Olathanni. At that time, the strength of the students was 300. There were 9 faculty members, 6 non-teaching staff and the Director.
The institution has been led by the following Directors:
| | |
| --- | --- |
| Director | Period |
| (a) Prof. N Gopinathan Nair | 14-12-1994 to 11-11-1996 |
| (b) Dr. C Mabel Lahi | 11-11-1996 to 31-10-1997 |
| (c) Sri. A Manoharan | 01-01-1998 to 31-11-1998 |
| (d) Prof. K Purushothaman | 03-12-1998 to 30-09-2003 |
On 01-10-2003, Univeristy Teacher Education Centre has been renamed as Kerala University College of Teacher Education and the Director has been re-designated as the Principal .
Principal
Period
(a) Prof. K Purushothaman
01-10-2003 to 31-10-2012
(b) Dr.P.K.Balachandran Kunji
from 01-11-2012
(c) Smt. SINDHU.I.P
(Principal in Charge)
from 2.7.17 14.7.17
(d) Dr. NISHA .S. DHARAN
(principal in charge)
from 15.7.17 – 27.9.17
(e) Smt. SINDHU.I.P
(Principal in Charge)
from 28.9.17 – 23.4.18
(f) Dr. RENUKA SONNY .L.R
from 24.4.18 – 28.9.2020
(g) Dr.Sunith Kumar G N
from 28.9.2020
The college was shifted from Olathanni to the campus of Govt. Vocational Higher Secondary School for Boys, Mancha, Nedumangad in 2004.