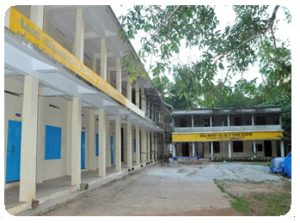 The land is taken as Lease basis by the Government for 33 years . Period of lease is from 24/08/2009 to 24/08/2042.
The available land area is 1.79 acres ( 7243.87 sq.m )
Built-up area of building is 1862.17 sq.m
Former Nedumangad MLA Sri Mangode Radhakrishnan MLA fund twice was utilised for construction of ground floor and first floor.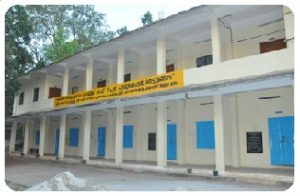 Construction of a beautiful administrative block is a golden moment in the development of this College. Using CDC fund, University fund( five lakhs) and donations received from Principal, teachers, students & well wishers used for construction of administrative block. Nedumangad former MLA Palode Ravi's MLA fund   was used for construction of a 2nd floor on the ground floor constructed by using the late  Vakala Radhakrishnan MP fund. Nedumangad MLA Sri C Divakaran MLA fund Rs. five lakhs twenty thousand utilised for two smart classrooms, three computers &construction of  three toilets in the college.
Infrastructural facilities
2018-19
 New website launched.
Purchased Napkin Incinerator, UPS Sebronics (8) , fans(10), Jio wifi device, wifi blue tooth donglers(10), modem & routeur, D-link network switch, antivirus, Ahuja mike set , speaker stand, steel glasses, trophies etc
FTTH connection in the computer lab.
Installed SMS software integration ( Educloud 360*)
Water purifier donated to college by Perappadan jewellers, Nedumangad.
Installed CCTV camera in the computer lab
Subscribed journals & periodicals
2019-20
Hon M L A Nedumangad Sri C Divakaran's M L A fund utilized for the arrangement of  two smart classrooms, three computers and construction of three toilets.
Donated steel plates by all members in the college as part of the green protocol.
Placed ' Use me' dust bin for plastic and paper waste in the campus.
Purchased computer tables
Installed CCTV camera in the office
Subscribed journals & periodicals
Purchased fire extinguishers
Electrification in the toilets.
College Infrastructure

Sl.No
Infrastructure
Whether available: Yes / No
Size in Sq.ft
1.
     Classroom
Total10 Classroom
Yes
527 Sq.ft each
2.
    Multipurpose Hall
Yes
2863
3.
    Library-cum-Reading Room
Yes
753
4.
    ICT Resource Centre
Yes
753
5.
    Curriculam Laboratory
Yes
527
6.
     Art & Resource Centre
Yes
527
7.
     Health and Physical Education Resource Centre
Yes
527
8
    Multipurpose Playfield
Yes
527
The following facilities are available in the Institution

| | | |
| --- | --- | --- |
| 1. |     Principal's Office | Yes |
| 2. |    Staff Rooms | Yes |
| 3. |    Administrative Office | Yes |
| 4. |     Visitors Room | Yes |
| 5. |     Separate Common Room for male and female students | Yes |
| 6. |     Seminar Room | Yes |
| 7. |     Canteen | Yes |
| 8. |     Separate Toilet Facility for male and female students | Yes |
| 9. |     Separate toilet facility for staff | Yes |
| 10. |    Separate toilet facility for differently abled persons | No |
| 11. |    Parking space | Yes |
| 12. |     Open space for Additional Accommodation | Yes |
| 13. |     Store room | Yes |
| 14. |     Medical facility | Yes |
| 15 |       Smart Classrooms | Yes |