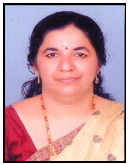 LALITHAMBIKADEVI. L.S
Asst. prof in General Education
Id Number: 20173
Mail id : lalithambikadevils@gmail.com
Scale of pay :18,740-33,680
Date of joining in Kerala University teacher education college : 1/1 /1999
Qualification: M.Sc, MA, M.Ed ,M .Phil, PhD(doing)
Publication of text book ; text book for Methodology and pedagogic analysis in mathematics.
presentation of papers: -10papers in national and international seminar .
Role of teachers in 21 st century .presented in Theophilus teacher education college .
2.Different means of  Communication  in teaching  is a skill rather than knowledge. Presented in international seminar coducted by language departments in kariavattom campus.
3.Yoga plays vital role in increasing concentration among individual .Presented in international seminar conduted by Sanskrit dept.
4.Team work skills plays effective role in teaching learning process.Presented in international seminar conducted by St thomas training college.
Role of soft skill on the successful dealing of the institution. Presented in the department of Sanskrit kariyavattam etc
National seminar on  GCTE,St JOHNS COLLEGE, Kariavattom campus….
Total teaching experience: 22 years
PRINCIPAL in charge:1 year at kucte kariavattom
NCTE VISITING FACULTY:At 3 colleges on 2009
CURRICULUM REVISION MEMBER at Kerala university on 2013 and 2015
CHAIRMAN OF External Board Examination on 2013.
DEPUTY CHAIRMAN OF Valuation camp on 2015.